TRAINS.
---
IT DO NOT SEEM TO THAT ANY DANISH COMPANY FOR THE PRESENT ARE INTERESTED IN THE DEVELOPMENT WHICH IS SHOWN IN THE FOLLOWING PAGES.


THE WORST THING IS THAT THE LATEST 3 WORST ACCIDENTS WITH TRAINS IN EUROP: LONDON, NORWAY AND GERMANY, THIS DATE IS 2000-02-13 , COULD HAVE BEEN AVOIDED WITH THE EQUIPMENT PROPOSED.


LONDON: THE MASTER OF THE TRAIN COULD HAVE SEEN THE TRAIN AT STAND STILL ON THE SAME TRACK AND STOPPED.


THE SAME IN NORWAY.


IN GERMANY THE DISPATCHER IN THE CONTROL TOWER COULD HAVE SEEN THE TRAIN DRIVING TOO FAST AND HAD BEEN ABLE TO WARN THE DRIVER OR HIMSELF HAVE PUT THE TRAIN TO A SLOW DOWN.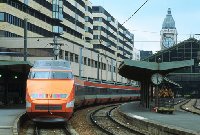 Take a look on the latest about automatic train controls!




You can mail us:

E-mail: west@mail.dk






Revised 2009.09.02